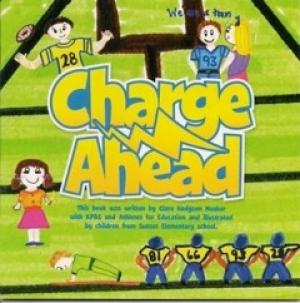 Charge Ahead
A rhyming picture book about a young boy who is inspired to play football after a visit to his school by the San Diego Chargers football team. Full-color photos of San Diego Chargers football players combine with brightly colored illustrations of the story by Sunset Elementary School children.
Book Name: Charge Ahead
Target Age Group: 3-8
Publisher: KPBS Public Television San Diego

Reviews:
Charge Aheadwas commissioned by KPBS public television in San Diego as part of a national "Raising Readers" grant to the Corporation for Public Broadcasting from the U.S. Department of Education (that's a mouthful). The fictionalstory is about a group of second graders who form their own winning team after a visit to their school from the San Diego Chargers football team. The illustrations were done by students at Sunset Elementary School in San Diego. KPBS plans to distribute the books for free in the San Diego schools as part of its community outreach program. I was fortunate to interview 6 of the Chargers for the book. They will be collaborating with KPBS in this outreach effort by making a number of school appearances and reading my book outloud to the children.I met 3 members of the Chargers team at a Charge Ahead book event in September, 2009. Pictured behind me from the left are Kassim Osgood, Steve Gregory, and Luis Castillo.
The book launch in San Diego was a thrilling departure from the normal author reading. Not only did I get to meet and listen to the Chargers take turns reading my story out loud to the audience, but a local high school cheerleading squad performed a routine while chanting some of the rhymes from the book.